Slack is a tool for announcements, seeking advice, daily chatting, realtime comms, quick questions, interesting links, and digital work-group space.
Channels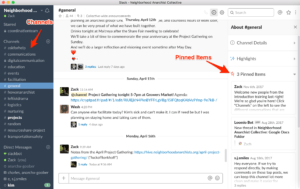 Channels are the different areas of discussion for different teams or topics. The channels you're in are on the left side.
#general

– Announcements to the whole group.

#name – Discussing the name
#random

– random and fun thoughts, memes, articles, chaos, etc.

See and join other channels by clicking on "Channels" in the left side panel.
Create new channels by clicking the plus sign. Announce the new channel in general so people know it's there.
Channels with unread messages will be bold.
To find important posts in a channel, view the 'pinned items' for the channel.
Threads
Threads let you respond directly to a message in a channel, keeping the replies organized neatly in a single, threaded conversation. Go ahead, ask questions and dig deeper, have side conversations, or go on a tangent without interrupting the flow of conversation.
Hover on a post and click "Start a thread" to begin a thread. Or click on the existing replies to view what people have already said and join the conversation.
Notifications
You can control how many notifications you get so you only get notifications about things relevant to you. To edit your notification settings:
Click your username in the upper left
Choose Preferences and you're there! Look around and set it how you want.
Recommended settings:

Select "Direct Messages, mentions, & keywords"
Check to notify about reply to threads
Adjust sound and appearance to fit what you want
Turn on email notifications for when you're not active (it will only email you about direct messages, mentions, and keywords)
Here's a short video: https://cl.ly/rGY8
@people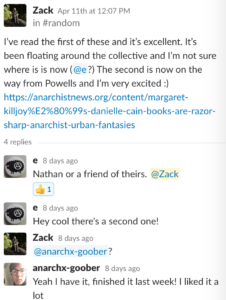 You can tag people by typing "@" and then their username. Then they'll get a notification. This is good to do if you want to get someone's attention and input on something.
You can also "@channel" to send a notification to the whole channel. Please use this sparingly for very important or time sensitive information, especially in channels for the entire collective.
Direct Messages
Private messages between you and another person or a few people.
To message multiple people at once click the plus next to "Direct Messages" and then select who you want to message.
Reactions
Reactions are fun little emojis you can add to posts. It's a fun little way to show support.